IMPORTANT INFORMATION FOR ATLANTIS & AVALON FACILITIES
​USING A FREE GMAIL EMAIL ACCOUNT FOR SENDING THIRD PARTY APPLICATION CONFIRMATIONS TO YOUR CLIENT BASE
Starting May 30th the Free Gmail eMail (along with other of the free email providers) will no longer be supporting 3rd Party Application Access. Atlantis & Avalon users must switch to more secure outgoing email service providers. We recommend using your domain name email accounts (POP3) which will provide more security with a service provider offering better security. A few providers offering more security through paid email accounts include Att.net / GoDaddy / SBCGlobal.net - and many others.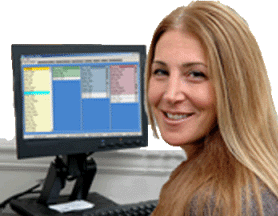 KennelSoft Software Systems are operating in thousands of pet care facilities throughout the world!
We are by far the most detail oriented and comprehensive of all the boarding, grooming, daycare and retail management solutions today. Providing a large range of detailed data and projection reports to effectively help make your day-to-day important facility and business decisions!
KennelSoft the Pet Care Standard and a Solid Anchor!
The Pet Care Industry has a VERY long history of software vendors who have "come and gone" through the years. KennelSoft is a "ROCK SOLID" company which most every "new kid on the block" has tried to emulate with little success.

KennelSoft has through the ever evolving history of the pet industry provided their clients with complete dependability and quick access to technical support when needed. We offer a proven track record of premium service and a longevity that will still be there when you need it!
24/7 Full Service & Support Ė Our #1 Priority!
In our high-tech and fast moving world today our old-fashioned approach to customer service and relationships makes all the difference for you!

When calling KennelSoft a live person will actually answers the telephone - not a computer! We promptly address your technical support needs and answer any questions. It's really just that simple for our support team provides by far the best technical support services.

Have you ever developed problems after-hours, weekends or on a busy holiday? Our support team is available to assist you with personal 24/7 emergency support.

We will gladly provide references for anyone who may wish regarding the quality of our support and technical services.
Single or Multiple Locations?
KennelSoft programs allow your single location or multiple locations to share data across the Internet using a VPN / Windows Remote Desktop connection.

You can log-in to work remotely on your facility computers. Unlimited number of remote locations can be handled.

KennelSoft programs allow all of your locations to share data across the Internet whether you are using a MAC or a PC.
We Are An Ongoing Work in Progress!
And, frankly we will never be a finished product for our programmers are continually working to update, improve and restructure to include the newest and innovative features in keeping with current pet care service trends.

We have listened and paid close attention when you have asked and we value the suggestions and wishes of our clients. We always give full consideration to your input about new features for upcoming updates!

The Atlantis program runs daily in our own pet care facility which means we always have full-time beta testers on duty - so no unpleasant surprises for you!
Easy and Logical to Operate!
Feel free to tour our site, download our Demo then - Phone Us to set up a time convenient to take a personal and private "walk through" covering the full extensive features and processes the KennelSoft programs contain.

KennelSoft programs are designed with all types of facilities in mind. The purpose of phone and remote training is always to get you up and running, and comfortable with handling the software in your business.

A complete manual is included with all programs. You also have the option for remote training sessions.
Atlantis LOYALTY Rewards Program ...
KennelSoftís Reward Program is a fully integrated system for creating, calculating, presenting, and redeeming award points for services and/or merchandise. As with any business that has a rewards program, itís purpose is to create and maintain customer loyalty and allegiance. How effective a program is, is based upon it being effortless (fully automatic) for the customer and that it provides instant gratification. When checking out a pet that had acquired points from previous visits, the program will check if that point balance is equal to or greater than the number of points needed to qualify for rewards on the current bill. If it is, an on screen message appears showing the number of points available, the rewards options, and the number of points needed for each option. The customer (or your staff) selects the reward(s) they want and then proceeds with the check out. Feature operates similar to your points earned at Best Buy. Great feature to reward those loyal returning clients. User defined - you set your own reward levels. For More Info...